I was having a chat with a buddy of mine earlier and they mentioned LinkedIn, and how people send them InMail to setup meetings. Well, it just so happens, the same thing happens to me. I'm not against meetings, but I don't enjoy them either because usually I can do everything in a meeting, in an email, with a response.
My Objective
Filter low quality
Reciprocate with whomever initiates
Attain funds as an indicator of commitment
Produce randomized responses using a script
InMail Example #1
Hi Matt,

I'm trying to get in touch with you in order to set up a meeting to discuss how we can assist you in developing sales qualified leads and setting up appointments on your behalf.

Our services can reach out to your potential clients not only by phone calls, but also through email and LinkedIn messaging.

Would you be available for a Phone call or Zoom Meeting,? to learn if we're a fit for you?

Use my calendar link to find a time that works for you.

[calendar link]

All the best,

Shermae
My Responses
I've seen plenty of pitch emails, but can you really deliver NAME? You'll need to prove you're not just another time-waster.
You've got my attention with your outreach approach, but talk is cheap. Convince me in our call that you're not just offering empty promises.
Before we jump on a call, I'd like to see your commitment NAME.
Show your seriousness by making a payment or donating to a charity through this link ⟶ maggew.com/payment.
Once that's done, we can discuss moving forward.
NAME, Let's cut to the chase…
Show me the color of your money: maggew.com/payment.
Then, we can discuss your pitch.
Time's ticking, Matt G.
NAME, I've got a knack for spotting real players.
Put your commitment on the line ⟶ maggew.com/payment.
If you're legit, we'll have a serious talk.
No shortcuts, Matt G.
NAME, Don't just drop another sales pitch in my inbox… back your words: maggew.com/payment.
Once you do, we'll see if you're worth engaging with.
Step up my brotha, Matt G.
NAME, I've seen too many talkers and too few doers.
Impress me upfront: maggew.com/payment.
Only then will I consider a conversation.
Let's see your move, Matt G.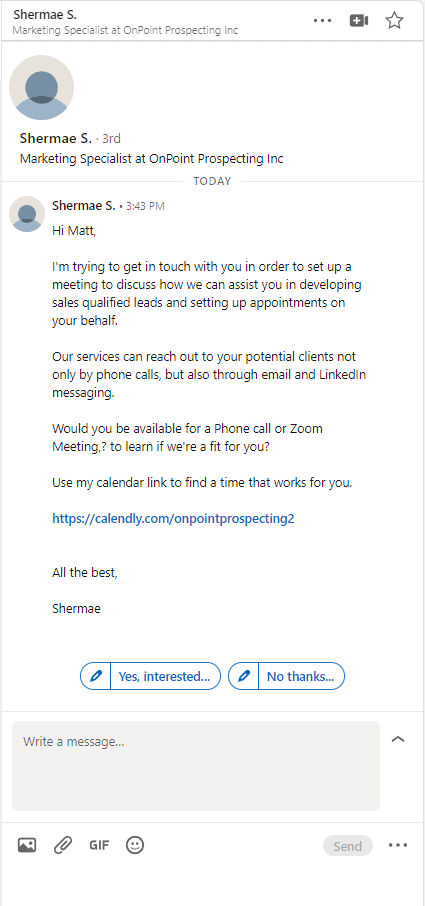 What Now?
Now that we have a set of generated responses that align with my objectives, I'm looking to streamline the process further. I'd like to be able to press a specific key on my keyboard to cycle through these responses and have them automatically pasted into the message field.
As you can see, I'm cycling through various random responses effortlessly using my preferred hotkey (Numpad +), and it's proving to be quite efficient. On a typical day, I handle around 15 to 20 of these interactions, and I achieve a ~15% conversion rate.
Here are some ideas on what to do next:
Change the responses according to your personalisty
Go back to all your previous messages if you have no deleted them and use this script
Create a sales / funnel page instead of using Calendly
If you want this script, send me an email.
Thanks for reading and have a great day!