📌 UPDATE – Scroll to very bottom to download template. Since writing this post, I've created a simple PSD / PDF ready for print but I plan on making even more updates so check back here in a week.
I definitely haven't tried all the To Do apps but I've tried quite a few. After testing out a dozen mobile phone apps and desktop apps I think I've found a few beautiful to do list templates. You see, I just purchased a laser printer and it's a modern marvel. A real thing of beauty, and now I want step up my life organization a bit more by blasting over my digital To Do lists onto paper. Now I can carry around in my pocket the grocery store, the mall shopping list or my outside honey do list.
A productivity system should conform to you, rather than you to it. I'll be using Evernote until I decide to launch up a print editor and design my own beautiful printable To Do list template.
Favorite Printable To Do Apps
I would recommend choosing one of my top 4 choices if you want a beautiful printable to do lists.
Evernote
Todoist
Word / PDF Templates
Apple Notes
Trello
Microsoft To Do
Workflowy
Basecamp
The apps at the bottom offer the To Do feature, they give a checkbox but the print style is non-existent or horribly designed. For example, in Workflowy, the print option is non-existent on the mobile device and the Basecamp print style is worse than plain text. I found that Todoist was very nice but NOT QUITE as fast and responsive as I'd like… there is heavy usage of popup / modal windows and I don't like that at all.
One more thing, I forgot to add that Evernote had a fantastic widget for mobile phone home screen and that is sort of a big deal if you like to rapidly blast away your ideas onto a list, Todoist had a nice one too!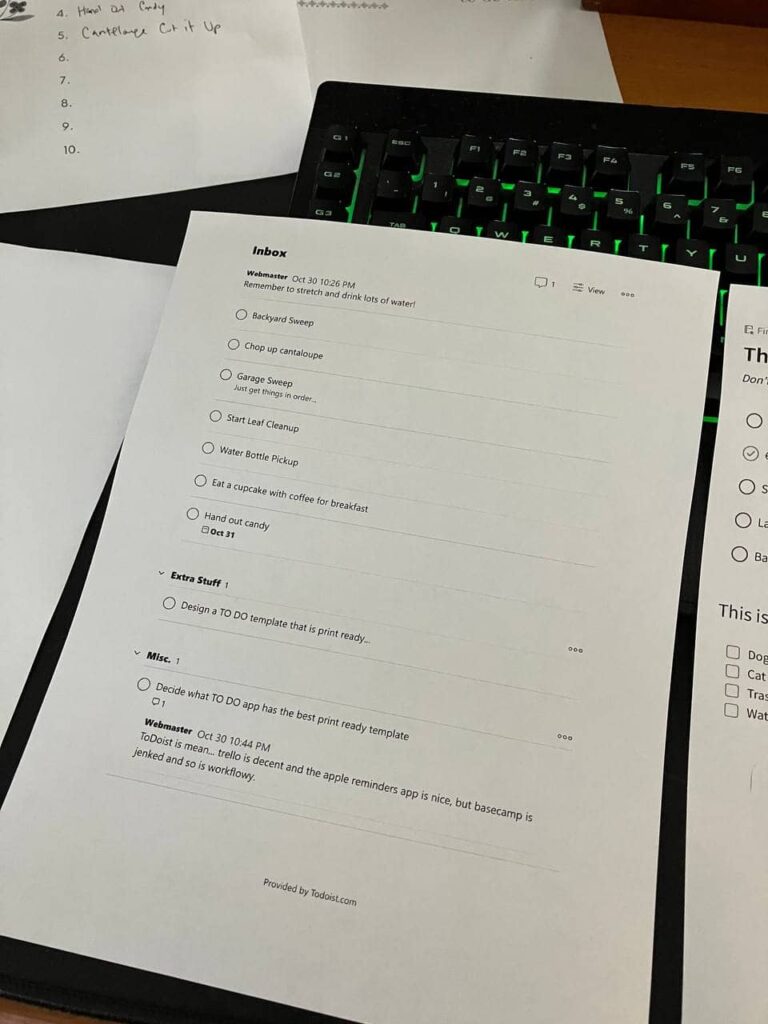 Leave a comment below if you actively print To Do lists and have found something I should look into. I've a couple more apps I wanna check out, for example, OneNote, Google Keep, Remember The Milk and TeuxDeux. ClickUp had some nice print style but the app itself is overly complicated for what I desire.
Free Beautiful To Do List Template
Check it out, I spent a couple hours making this and trying to find the perfect combination of colors and fonts that make for fantastic monochrome printing. The idea is to give anyone the option to print a beautiful To Do list using their laser printer at home on really nice cardstock. This is revision #4 but I suspect it's going to take me 8 or 9 to really be happy because things I'm considering:
create two column layout
instead of standard paper size (8.5 x 11), make it half
adjust the subheader font / color
swap square boxes with outline circles or outline box
publish on web and charge $ to make physical prints for people