The Problem: If you browse a DEX and try to swap for a specific crypto and can not find it on the dropdown list it's because you need to manually add it to your wallet. Sometimes, you can visit the website for the specific crypto and it'll have a button to click and automagically do it for you. Arbitrary tokens, is usually the main reason why anyone would need to import a custom token. DYOR.
Method 1: Visit Chainlist.org
This almost hardly ever works for me, but maybe the Token owners responsibly added their coin to the website to help the community quickly add coins.
Method 2: Visit Token Website
For example, RIPAE Finance has a spot on their website but not many people do this, sad but true:
Method 3: Visit Snowtrace / Etherscan
Probably the most guaranteed way to get results and can skip all the other B$. Just locate the token, and then search for the contract address related to it.
Method 4: Visit Token Analytics
If the token is being exchanged on a popular DEX you should be able to find the pair and on the analytics page for the website it'll give you a copy / paste Address that you can just load up in your MetaMask wallet. For example, there is a PSHARE-WAVAX pair on TraderJoe Analytics and I can use that wallet to paste in MetaMask dropdown.
Bottom Right Corner set Rows per page to ALL
CTRL + F and search for specific token and click link

Copy Wallet under Information to clipboard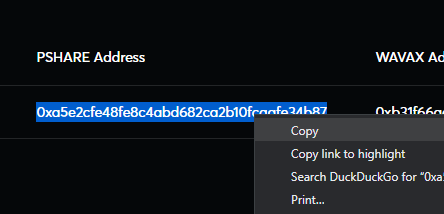 Open MetaMask > Assets > Import Token > Custom > Paste Address from Clipboard > Revisit Website and Swap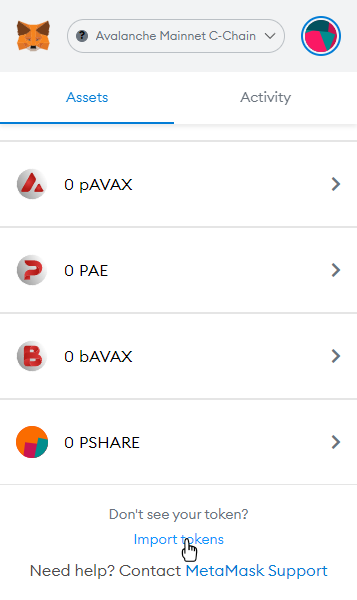 I personally stay away from Ethererium related anything, I think the entire chain and ecosystem is trash so I recommend AVAX and BSC (BNB = Binance Smart Chain). You really can't go wrong with either of them but it just depends on how you onboard your USD and get into the crypto world. If you are going from Coinbase to AVAX it's very easy to get started and can stay away from Binance but you'll miss out on even cheaper gas prices but have access to newer and more exciting crypto tokens.
Coinbase > AVAX > Send to MetaMask > Visit TraderJoeXYZ > Start Crypto Journey
Coinbase > ??? > Binance / Kucoin > Visit PancakeSwap > Start Crypto Journey
When you add funds from USD to Crypto you are assigning your money to a specific blockchain, and it is very tough to swap between chains without huge fees.
Happy hunting!